Upcoming Events
---
September 9th to October 28th: Sutherland Bipolar Seminar Series
Mondays, 6-7:30 pm starting September 9th through October 28th. Each session stands alone.
Where: NEW VENUE! Boulder Community Health, Della Cava Family Medical Pavilion, 4801 Riverbend Rd, Boulder, CO 80301
Cost: A $10 per person donation is appreciated, but no fee is required.
More information and registration details
---
October 19, 9:00am: NAMI Colorado Annual Meeting and Conference
Denver Health Rita Bass Trauma Center and EMS Education Center
190 6th Avenue, Denver CO 80204
---
October 21-24: First Annual Colorado Behavioral Health and Wellness Summit at the University of Denver
Free and open to the public!
Discover new tools and resources, discuss practical strategies for change, and connect with colleagues and experts alike.
Click here to learn more and check out the schedule of workshops and events
---
November 7th: Sleep Out to support youth homelessness
"
November is Homeless and Runaway Youth Awareness Month
Take action and Sleep Out in support of young people at Attention Homes!
Thurs. Nov 7, 7:00PM – Fri. Nov 8
First United Methodist Church of Boulder
For more information and to register
---
November 13: NAMI Education Night Presents "In Our Own Voice"
NAMI In Our Own Voice presentations change attitudes, assumptions and ideas about people with mental health conditions. These free 90-minute presentation provides a personal perspective of mental health conditions, as leaders with lived experience talk openly about what it's like to have a mental health condition.
---
November 20th: HOPE LIGHTS THE NIGHT Eleventh Annual Candlelight Vigil in remembrance of those lost to suicide.
Remembering Those Lost to Us by Suicide. Honoring the Bereaved and All Touched by Suicide.
This free, non-denominational program includes music provided by Resonance Women's Chorus, Sue Coffee Director, and Cantorial Soloist Holli Berman, responsive readings, a symbolic lighting of candles, and brief comments about how suicide affects us all.
Bring a picture of your loved one to post, if you like
Information about depression, suicide, mental health, and local resources will be available.
WHEN: Wednesday, November 20th at 7:00pm
WHERE: Community United Church of Christ 2650 Table Mesa Drive in Boulder
For more information click here or email Swdkm321@comcast.net.
---
November 21 & 22: 
Interfaith Network on Mental Illness presents….
HOLDING YOUR CENTER IN ANXIOUS TIMES featuring Jerry M. Ruhl and Roland Evans
We live in a time of tumultuous social, political, and psychological upheaval. How do we manage anxiety, heal moral injury, and sustain a healthy center in these times? Come to an inspirational and liberating program that will help you hold your center—individually, in relationships, and in community.
No-Cost PRESENTATION for the Public:
Thursday, Nov 21st from 7pm to 9pm
No-Cost WORKSHOP for Mental Health Professionals/Clergy/Faith Leaders:
Friday, Nov 22nd from 9am to noon
(Registration requested for workshop — see link below)
Live: Boulder Adventist Church, 345 Mapleton , Boulder, CO
Simulcast: Location TBD in Longmont
to register for the Workshop for Mental Health Professionals, Clergy and Faith Leaders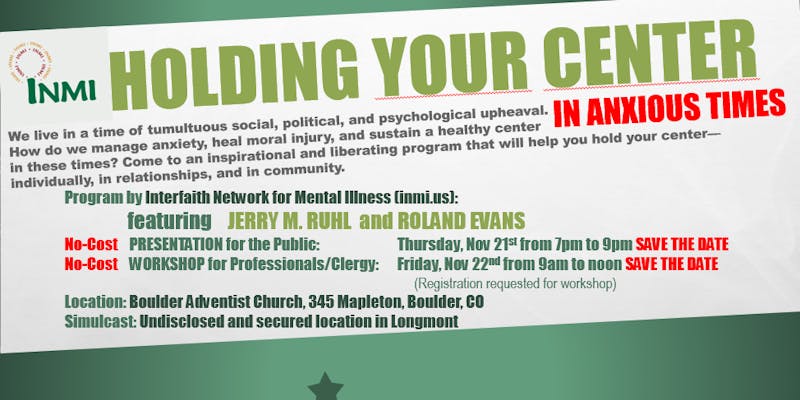 ---